Moving a Kiln Across the Country - Welcome to Chico CA!
Welcome to our New Home for Saxon Designs Pottery and Jewelry in Igo CA. We are located just southeast of Whiskeytown National Recreation Area. We relocated to Igo in 2019 and finally got our studio up and running in May 2020!. We are in the process of adding new inventory as we restart our pottery and jewelry production. Thanks for stoppy by!
We finally made it to Northern California! Chico to be more specific. It's been a long year full of hard work and managing the move of our house and the pottery studio. It was very tiring, but in the end, we are glad to be here in NorCal. Can't say enough about the beautiful scenery and weather in the Chico/Redding area. (Yes we were already here in Chico when the camp fire hit, but that's another story)
We arrived at the end of last June (2018) and have been settling in since. It was a bit of a transition moving from having my own studio to going back to a community studio. Since we moved, I have been doing a lot of hiking outdoors and working as a Utility Forrester helping with wildfire safety. John kept pushing me to get back into the studio, and I finally got my work habits adjusted so that I stopped resisting the arduous 15 minute drive to the Chico Ceramics studio and just drove there and worked for several hours. After getting over the hurdle of finding a new clay body and testing my glazes on it, I decided it's now time to build up my inventory for selling. With the work schedules under control, I finally now have time to move my website over to IndieMade and start working on making and marketing my work.
Most of my pottery equipment is in storage in Yuba City (specifically 2 of my 3 kilns) and the rest in a local Chico storage (one kiln, pugger and spray booth). Given that, happy to have found a temporary home at the Chico Ceramics Center where they have a reduction kiln (which they fire very nicely by the way).
So how did we get a 1200 pound Bailey steel-cased reduction gas kiln moved across the Country to the left Coast? Well, its dimension and weight fit what a U-Pack cube could hold, so we had the kiln fork-lifted into the U-pack crate with some stabilizer wood added and shipped across the USA. U-Pack is a steel shipping crate that can hold up to 2,000 lbs - just big enough for our small Bailey 13/8 studio reduction kiln. U-Pack doesn't deliver any further north than Yuba City, so that is where the kiln is stored right now. Below is its picture in the storage bay.
For an extra fee, the ABS freight driver forked it out of the crate and placed it in the storage bay! We made arrangements with U-pack ahead of time for this and requested that they put that information on the delivery paperwork so that there would not be any issue when the crate reached the storage facility. U-pack manages your freight shipment so if you can wait a couple of weeks for your things to arrive, it is much less expensive that having door to door mover do it for you - and much less money than having to buy a new kiln!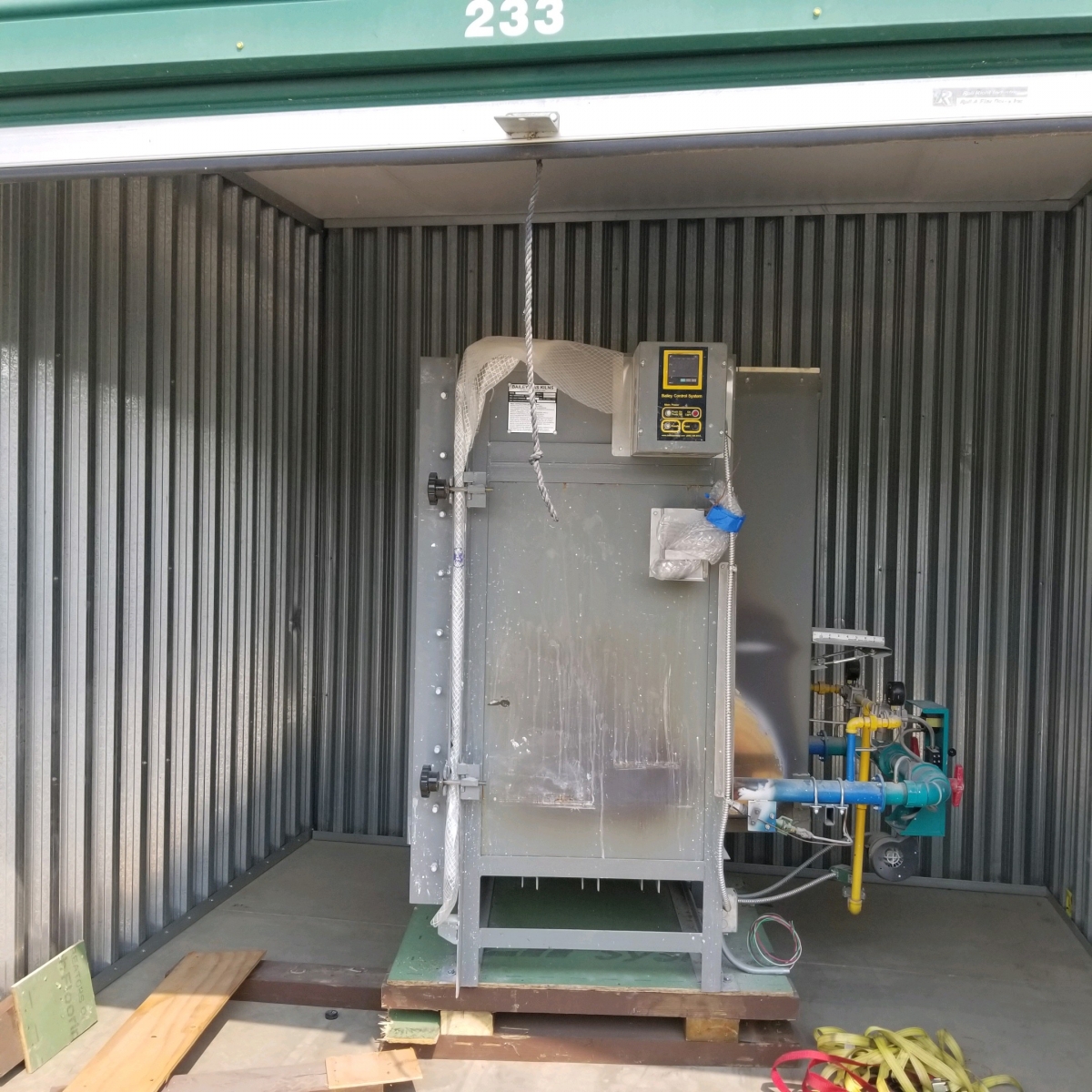 t