About Us
Welcome to our New Home for Saxon Designs Pottery and Jewelry in Igo CA. We are located just southeast of Whiskeytown National Recreation Area. We relocated to Igo in 2019 and finally got our studio up and running in May 2020!. We are in the process of adding new inventory as we restart our pottery and jewelry production. Thanks for stoppy by!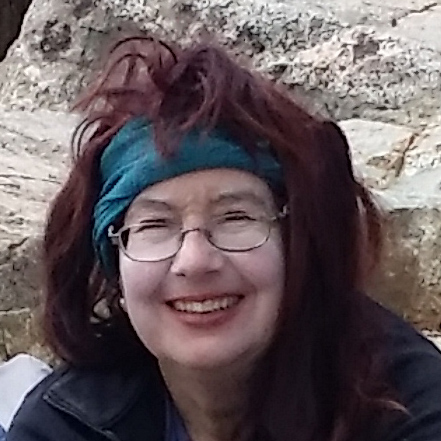 Saxon Designs is a small independent artist endeavor. Diane Delgado is the artist who designes and creates all of the pottery and jewelery. She is assisted by her husband John who helps out with the other aspects of running the business and more importantly by giving a lot of moral support. Most recently we relocated to Northern California after spending many harsh winters in New England. We are glad to change the cold cloudy winters and humid summers for the wide open spaces and big blue sky of the Norh Valley. We are currently producing pottery at the Chico Ceramics Studio and are grateful to have such a nice community studio to work in until we get our own studio.
All my work is handmade by me. I am inspired by historical patterns and artifacts - mostly Celtic, Viking, Medieval. I like to incorporate these themes into my pottery and jewelry and give them a modern twist. I am very interested in patterns and texture and view a plain clay or metal surface as a canvas for decoration.
My pottery is high fire functional stoneware. I use reduction firing to achieve certain special effects for glazing. Each piece is fired twice - the first firing is a lower temperature firing to strengthen the dry clay for glazing. After the piece is glazed, it is then fired again at a much higher temperature. This melts the glaze like glass and the glaze will interact and bond towith the clay body.The process to make a clay object can take weeks from start to finish
Because pottery is such a long process from start to end and requires that i make many pieces at once, I sometimes find myself wanting to make a finished product that I can complete in a day or two. I became interested in precious metal clay as a means to explore the world of metals while using my clay skills. I can create a precious metal clay object from start to finish in an eight hour day. I instantly fell in love with the results and the fact that i could make something that did not take weeks. My interests quickly extended into traditional metalsmithing. I often combine traditional metal working techniques with precious metal clay objects that I have created to produce unique jewelry pieces.
I just love learning about materials, their properties and then making things with them. I hope you enjoy my pieces and much as I enjoy making them